7 Reasons to use an Oil Diffuser during Lockdown
While the current restrictions have affected us all in different ways, for many, our habitual changes has meant a spike in levels of anxiety. Using an oil diffuser to fill your home with long-lasting aromatherapy vapours is just one of the many ways that can ease stress, relax the body and the mind at a time when we are all perhaps feeling a little trapped.
What are the benefits of using an Oil Diffuser?
Filling your bedroom with the smell of herbal oils such as Lavender and Sweet Marjoram helps to relax the muscles and the mind when attempting to get your eight hours shut-eye. Using a diffuser is one way to ensure a long-lasting aroma that will last for hours at a time. Perfect for those that have struggled with disrupted sleep patterns since the start of the pandemic!
Bonus: Research also shows that using certain oils, such as Lavender, can help increase the amount of slow and deep-wave sleep.
Working, 'relaxing', sleeping and, in general, living within a confined space can peak anyone's anxiety. Using a diffuser in a home office promotes relaxation at a time when we feel that we may not be able to escape the daily stresses without being able to travel, go to the gym, or socialise with friends. We recommend using Ylang Ylang (our most requested essential oil) as an all-rounder to relieve stress in any home environment.
Anyone else worried about coughing or sneezing in public when grocery shopping, or out for daily exercise? No-one likes getting sick during the winter months - and especially not during COVID-times. Essential oils were historically used to heal in Traditional Chinese Medicine and inhaling the vapours from a diffuser is no different. Lemon and Peppermint are both popular choices for boosting the immune system.


4. Aids Breathing & Improves Respiratory Health
As well as boosting the immune system and keeping the common cold at bay, diffusing essential oils can help those that suffer from asthma, congestion and other respiratory issues. Eucalyptus and Frankincense have the ability to clear the air in both your home and your throat. In fact, using these oils has even been shown to ease the symptoms for some suffering with COPD.


5. Boosts Memory & Concentration
The 3pm slump can sometimes feel like an all-day slump when working from home. Fill your home office, bedroom, living room, or wherever it is that you are working, with citrus scents (Lime, Wild Orange, or our 'Spring' blend) to clear away brain fog and improve productivity.


6. Safer Alternative to Candles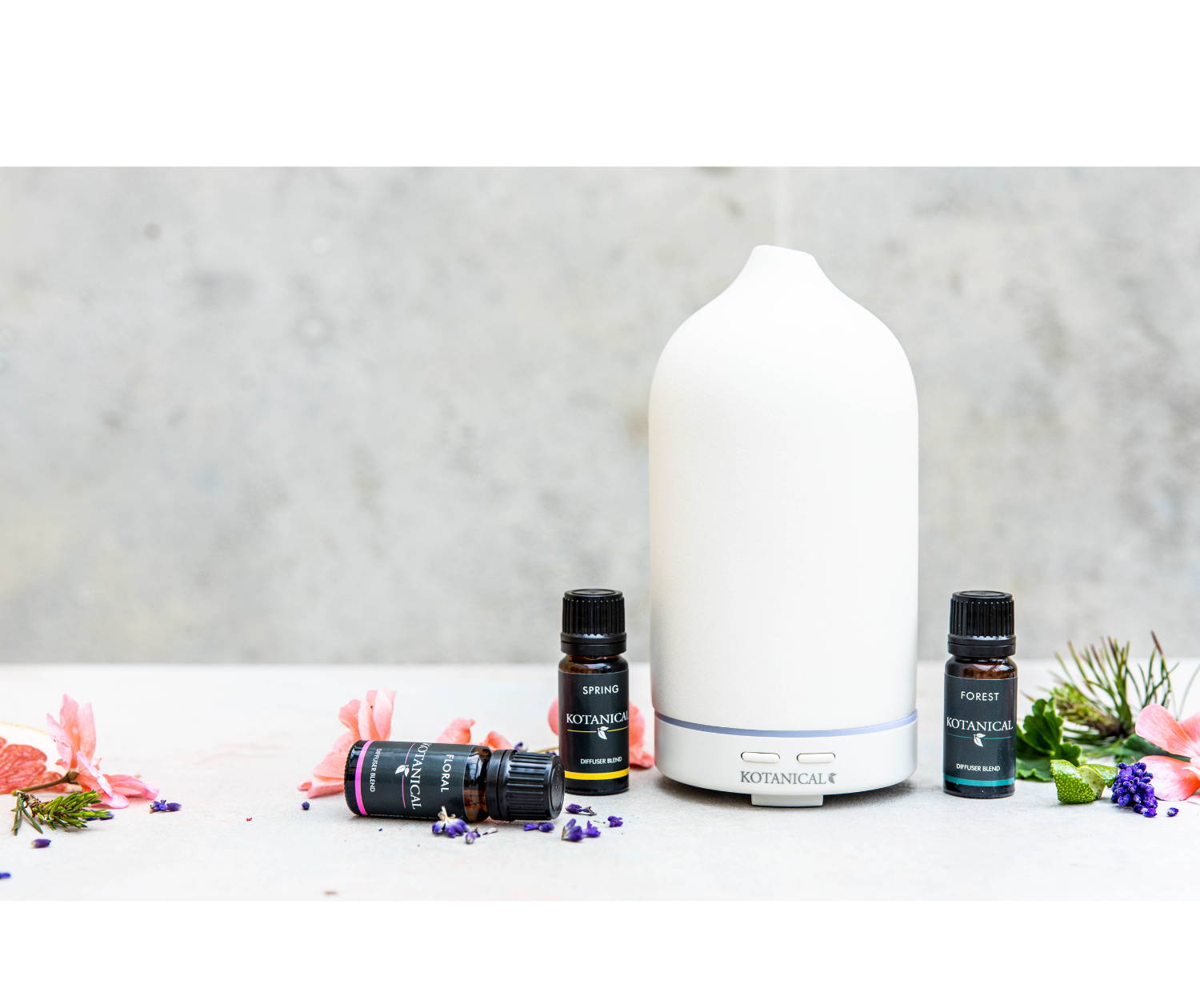 No smoke, just mist!
Kotanical diffusers emit vapour, avoiding the toxins that can spread from the smoke of candles. Unlike most scented candles, our diffuser oils have always been 100% vegan and cruelty-free…and they always will be! We are certified by Cruelty Free international and carry their leaping bunny logo.
Diffusers quickly fill a space with the aroma of an essential oil that can, by the nature of the diffuser, be swapped out for a new scent as often as you like. An essential oil for every day of the week? No problem.
Purchase one of our Stone Oil diffusers for only €59.99 or buy one of our Bundles here.